I have become lazy at updating my blog over the weeks of training and since the marathon and with a rainy Sunday afternoon, Rosie sleeping and the house quiet, I thought I would finally get round to putting the story of training and the London marathon down in words.
As I mentioned in the previous post after the first two weeks of training, training went really well.  I embraced the morning runs, even though it did involve getting up some mornings at 5:30 before a 12 mile mid week run.  If I am honest, I really enjoyed getting my runs completed in the morning, and morning training is something I have continued since the marathon finished.
Training went extremely well, especially as I was nervous about the 20 and 22 mile training runs, given these hadn't gone well during Dublin marathon training, if anything they were awful!  For the 20 and 22 mile runs, I decided to take a serious look at my nutrition and decided to try and give gels a go, as I believed the traditional approach of water with some cordial and small chocolate sweets wasn't the best way to approach a long run anymore.  The 20 and 22 mile went well, if anything I felt relatively fresh after them, however my 18 mile run didn't go to plan after arriving home.  When I set out for my 18 mile run, Ali and Rosie were both feeling under the weather.  Ali reassured me everything would be ok, so I set out determined to get the run done, under the belt and home for a relax.  In previous years the 18 mile run has always been the training run that has caused me to feel awful post run, it is the run that uses up all energy and floors me for the rest of the day.
I arrived home happy to get the run done, only to find Ali in bed feeling unwell and Rosie starting to stir.  Ali could barely get out of bed as a bug had well and truly taken over.  I quick shower and focus on Rosie was called for, however just as I was getting out of the showered Ali is overcome with vomiting.  After getting Ali patched up and back in to bed, I focus upon Rosie and try to her some dinner.  At this point I haven't taken much on post run but I am feeling ok.  As I am standing in the kitchen with Rosie eating some hastily prepared pasta, I start to feel ill.  I think it is just the 18 mile run, given my past experience, however very quickly I realise it isn't.  About 60 seconds later I am also hugging the toilet being violently sick, and even more concerning my vomit is black as tar!  Thankfully my wonderful mother in law Valerie was on hand to save us as both of us were unable to look after Rosie.  That was the time I realised how important it is to have her at the other end of the phone.
After that weekend, I took a couple of days off training but managed to get back on track and get the 20 and 22 mile runs finished successfully feeling relatively fresh.  Given the 18 mile experience, my nervousness was increased, but thankfully unfounded.
Training was completed the end of March, and after a couple of weeks of tapering off I went to London to hopefully complete my 2 London Marathon and 15th in total.  It was a full family trip with Ali, Rosie and my mother and father in law, Valerie and Dixie in tow.

After picking up my number from the expo, I knew the focus was purely on relaxing on Saturday and getting ready for Sunday, helped by a night out to see Les Miserables on the Saturday  night!


I set off early for the start on the Sunday morning, as I had to make my own way to the start via a combination of taxis and train, however London's organisation is excellent with great public transport to the start.  I arrived at the start with plenty of time to stretch, visit the loo and take in everything.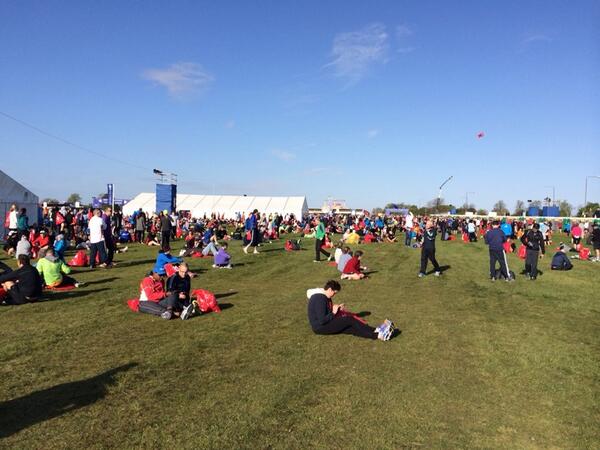 10am and the start came quickly and as per Dublin I didn't think about running a PB, I simply thought about beating my previous time of 3:17 which was my main aim.  I was in a pen near the front with other 3:15 marathon runners and got across the line quickly.  I really enjoyed the first few miles, I made a point to take in as much of the atmosphere as possible, something I didn't the last time I ran London.  I took each mile as it came, ticking off 7:10-7:18 minute miles through consecutive miles, there were even points were I had to give myself a talking to as my pace was too fast.  I made a point to slow myself down, however as I got further and further in to the marathon, I had a feeling of dread that something was going to come and bite my on the ass!!  During training I had felt a slightly tight left groin, however it had never concerned me too much, but at mile 13-14 I felt a massive twinge in my left hamstring.  I felt it on every step but gradually I was able to disregard it as it wasn't affecting my pace or causing any great discomfort.
The weather had been nice from the start, with the sun out in a relatively clear sky and as the miles ticked on I could feel it getting gradually warmer with little or no breeze.  At mile 17 to 18 I realised I was well ahead of pace and decided to drop the pace slightly to conserve some energy.  Everything was going fine to mile 21.5.  At mile 21 I had for the first time started to look at the overall time and think about a finish time, I knew a PB was in reach, all I had to do was keep running at about 7:30-7:45 minute miles, however this outlook would change.  Out of no where the pace went, the energy levels dropped and I knew the fuel gauge was at empty with the light on.  I took a gel at mile 22 hoping it would apply some miracle energy powers and it did provide a short burst of relief for about half a mile, but the it then disappeared as quickly as it arrived.  I knew what was happening, a combination of fast pace and the heat had sapped al energy, it was now a case of getting home.  This is the point that every runner dreads, the body is screaming to stop and just doesn't want to go on.  I have been lucky as I have only been here three times before, during my first marathon, a previous marathon in Belfast about five years ago and the Edinburgh Marathon in 2012.
At this point, every step feels like the effort of a mile, every footstep feels like lifting a tonne weight, and the distance on the watch doesn't seem to move.  A mile feels like a complete lifetime, all you want to do is just get to the finish line.  I knew my pace was dropping very badly, and by this point I had put any chance of a PB out of my mind, I just wanted to get home.  As I passed the 24 mile marker I started to notice a number of runners being attended to by St Johns Ambulance.  I was said to myself 'that isn't going to be me', I would be proved somewhat incorrect eventually.  Gradually the last couple of miles passed and as I passed Buckingham Palace I had no energy to try and pick the pace up for the line.  I crossed the line in 3hrs 21 mins, I was just so happy to be finished and another sub 3:30 marathon.  I gathered myself and was happy to pick up my medal.  I put a smile on my face and managed a picture with the official photographers as I wanted to make sure I marked the occasion of another marathon finish.

I walked down the line of bags and found my bag.  After picking up my stuff I made my way to the toilets as I knew the system needed it.  After a hastily visit, I sat down on a cement block, and gradually started to change my water and sweat soaked top.  I didn't realise this took me about 30 minutes, I only know the time as my father in law saw me finish and knew it was taking me quite a time to move from the finish line area to the meeting points.  After sometime I made my way out to the meeting points in horse guards parade, however I knew I wasn't right, the body was empty of all energy.  I met Ali, my mother and father in law and Rosie, however as they were sitting in the sun I found myself a piece of shade under a tree.  As I sat down, a wave of emotion came over me, I just wanted to cry.  I have no idea what this was or where it was coming from, it was possibly just a realisation of how tough the last few miles were.  My father in law and Ali both suggested I maybe visit the St Johns Ambulance tent beside us, however I decided against it as I knew they had patients to deal with worse than I was.  After some time, I have no idea how long had passed, I said to Ali I needed to head back to the hotel.  As I got up, I decided that I actually could do with a visit to St Johns Ambulance.

This is the point where you really appreciate the work they do.  After a somewhat quick look at me, they knew my sugars were badly depleted and a possible dose of sunstroke.  I cannot speak highly enough of the St Johns Ambulance, they were excellent and knew exactly what to do.  After some Lucozade and close monitoring of me, I decided it was time to go and give up my bed to some other poor folks, and given it was extremely hot, there were quite a few.
My in laws had taken Rosie back to the hotel, but as Ali and I walked back across horse guards, with me graduating feeling better and starting to really appreciate both finishing and running now 15 marathons, I didn't say thats me done with marathons or I'm never running another one, I turned round a said I'll be back to see ya next year!  This was before I had a quiet pint later that afternoon!


A number of weeks have now passed and I'm still putting in a minimum of 20 miles a week and out of the bike with the intention of doing either a triathlon or long bike ride this summer.  I haven't made a final decision regarding a marathon at the end of the year, Dublin in particular, however I think there is a 70% chance I will give a go to number 16 later this year!